The Art of Being your Brilliance Retreat 2024
With Anna Sadhana Pilotti, Christina Rindsjö at Eremito in Umbria, Italy.
We offer you next retreat, September 19-23 2024. More info and details soon.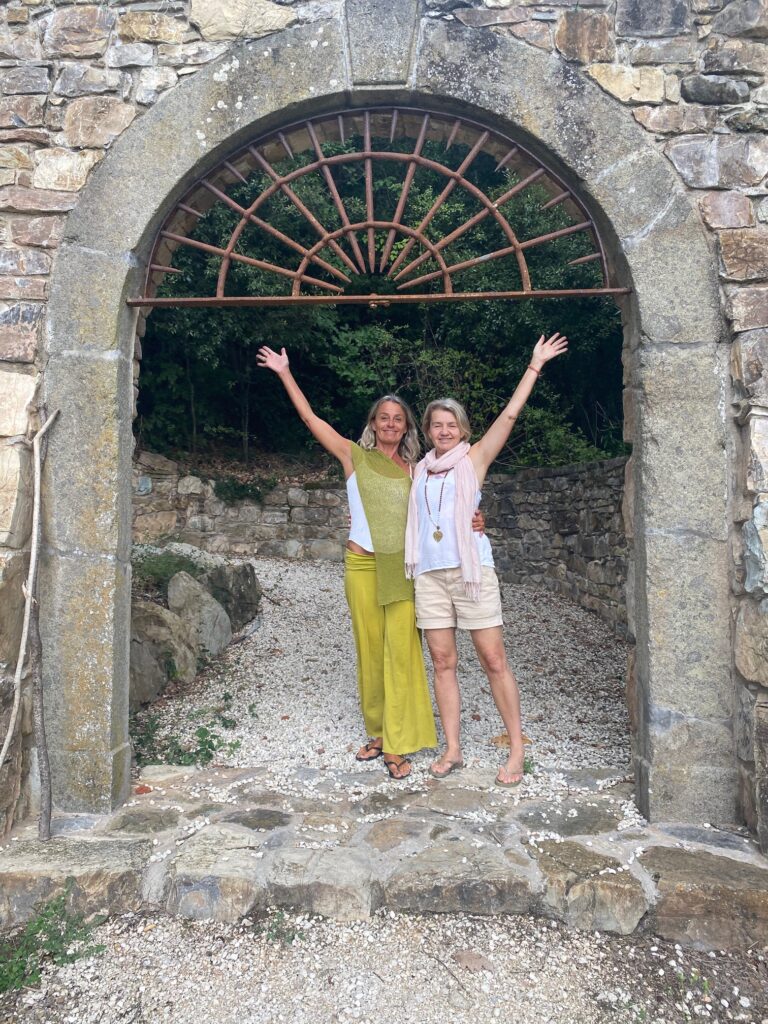 Give yourself a periodic pause from daily life, slow down, tune in and reclaim yourself at beautiful Eremito, Umbria.
This is a partly silent retreat, which means there will be time to turn off the phone and computer and retreat into and back to yourself receiving the healing gift of nature around. The program guides you through Mindfulness practises, silent sittings ,sharing circles, dance, chanting, yoga, breathwork, Active meditations and transformative energy work to help you to tune in and connect with Your body, cleanse Your mind, ignite your joy and empower Your awareness.
No retreat is the same and every retreat is in constant change.
For 2023 we offer two retreats, one in May and one in September.
Eremito is located in the midst of mountains, rivers and beautiful forests. Its the perfect location to immerse in the healing power of nature and disconnect to reconnect.
Here you can nourish yourself with walks in nature and bathe in the rivers.
Soak into the rainbow lighted jacuzzi and the steam sauna, choose from various relaxing and healing treatments or just be with yourself or fellow travellers.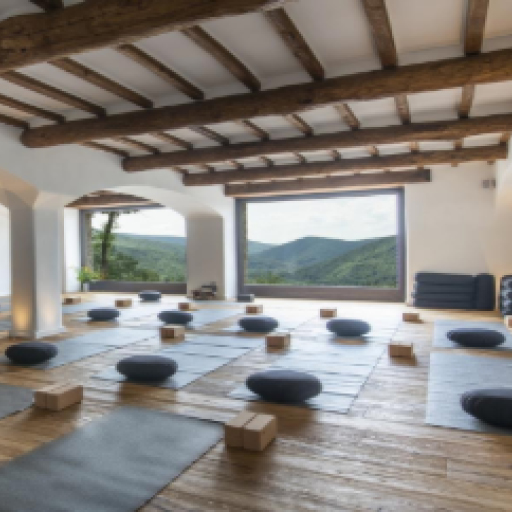 Enjoying moving, cleansing, energizing, opening, nourishing and strengthening body, mind & soul.
Retreat program
🔹 Morning Magic soft movements in nature.
🧘‍♂️ Daily Morning Yoga sessions including Breathwork Practice & silent sitting
🔹 Daily afternoon Transformational Energy workshops
🔹 Followed by Active Meditations & Spa area exclusive for our group before dinner
🔆 Sharing Circle is inserted randomly to support our process
🙏🏼 Some after dinner sessions might be included
Please note that the program follows the energy of the group and can differ from day to day.
Meals are vegetarian, Rich in variation and presented with creativity and beauty. Eremito had its own vegetables garden and buys all other products from local farmers to suppport a Conscious way of Living. Breakfast and lunch are served outside as a buffé.
Dinners at Eremito are in silence and served at the table.
The program is partly designed to support and help you befriend Your inner silence and become more of the Space of You.
We like to invite all to the Possibility to bring THIS into Your Living and the world.
Core elements of the retreat are Awaken, Relax, Release, Receive, Be, Embody & Shine.
FREE time and Space is an essential part of the retreat and living the Eremito experience.
Welcome to The Art of Being Your Brilliance Retreats!
Our RETREATS 2023
1. April 30-May 4
For whom join for the first time yet can easily be taken various times since each retreat experience is different and the program is in constant Change.
SEPTEMBER 2023 open for booking NOW
For those requiring something else possible. For those willing to explore more of what is beyond this reality. We start at 15.00 and we end the retreats at 14.00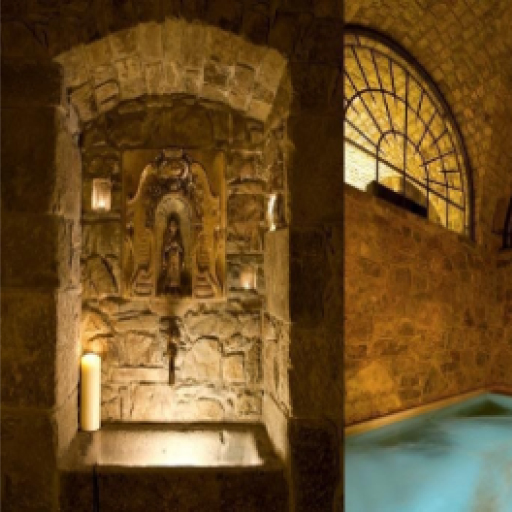 Give yourself a periodic
pause from daily life.
TRANSPORT, PAYMENT AND CONTACT
How to get here
✈️ Fly to Rome/Fiumicino or Ciampino airport.
🚄 Train is an option and we suggest you check possibilities from your country.
👉 Station where we are: Fabro/Ficulle
🚞 Train is also possible directly from Fiumicino Airport to Fabro/Ficulle.
From Ciampino take the bus 🚍 to Roma Termini or Roma Tiburtina.
Train 🚊 to Fabro/Ficulle.
You can check and book your train here: www.trenitalia.com
Rent a car is an option.
Roma airports to Eremito is about 2 hours.
Private Transport Shuttle
We can arrange private transport from the Airport upon request.
Price Info 2023
Single room: € 1895
Double room: € 1675 pp
Trippel room : € 1615 pp
What's included
• Retreat program and full board, 3 rich vegetarian meals with abundant variations and choices beautifully created with local greens, fruit and products cooked with love
• Local wine, water, coffee , tisana
• Daily Spa usage
Not included
🚙 Transport from and to Train station Fabro/Ficulle.
One way 40 € , can be shared with max 4 pax per car.
Eremito is 30 minutes from the train station.
🔸 Private Group transfer from airport (organized upon request)
🔸 Your travel & insurances
Treatments
The various treatments Will be comunicated closer to the retreat.
Bookings directly through us.
The rooms
Eremito has 14 "celluzze" (the one in the picture) with a 150 bed. Recommended for single use or couples.
2 twin rooms with separate beds.
3 triple rooms with separate beds.
Payment / booking
Reserve your spot by paying a downpayment of 400 €
👉 Retreat September: Downpayment latest June 1, 2023
🌟 Early Bird 10% discount When paying before May 25, 2023
Payments can be made in 3 parts (including the downpayment) or in one single payment.
Downpayment by June 1
50% by June 10
Full payment by August 10
Contact Anna regarding payment flow.
👉 Please note that all payments are non refundable once paid.
👉 We & Eremito recommend that everybody organizes their own travel insurances that can cover any inconveniences.
Welcome to contact us for more info.
How to pay
Skandinaviska Enskilda Banken, Stockholm, Sweden
Account holder: Anna Carin Pilotti
IBAN: SE345 0000 0000 5240 00 61 777
BIC: ESSE SE SS
👉 If you pay from Sweden, please pay directly to account: 5240 00 617 77
Payment option: Swish : +39 347 708 3899
Please send a copy / foto of your payment on mail or whatsapp +39 347 708 38 99
👍 Ref:
2. Retreat September 2023 and Your name
Do you have any questions?
Welcome to contact us:
Anna +39 347 708 38 99
e-mail: acpilotti@gmail.com
Christina +46 70 663 22 33
email: christina@onewell.se
For more information about Eremito and how to get there please go to www.eremito.com
Looking forward to meet you in person 🙏🏼 here with us
Anna & Christina
Here you can read more about Anna and the upcoming retreat
Nisbeths resblogg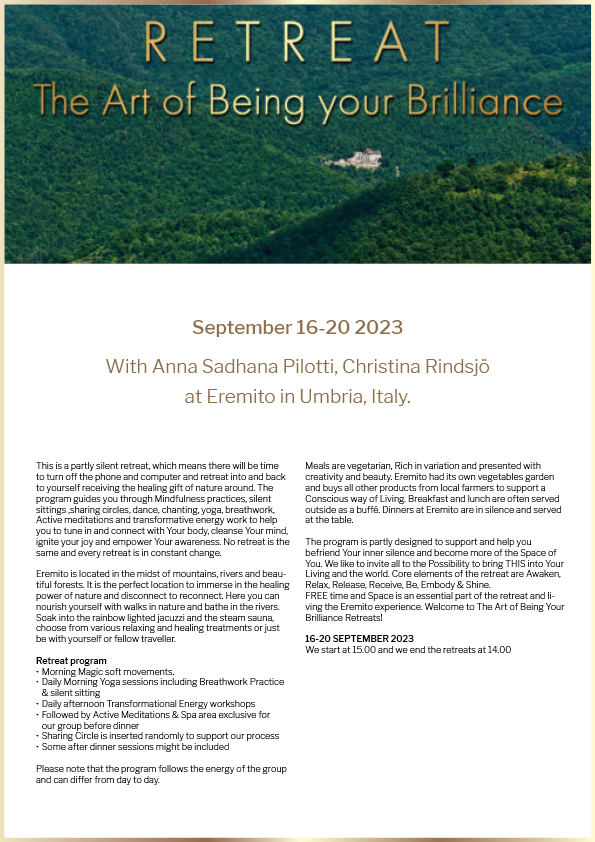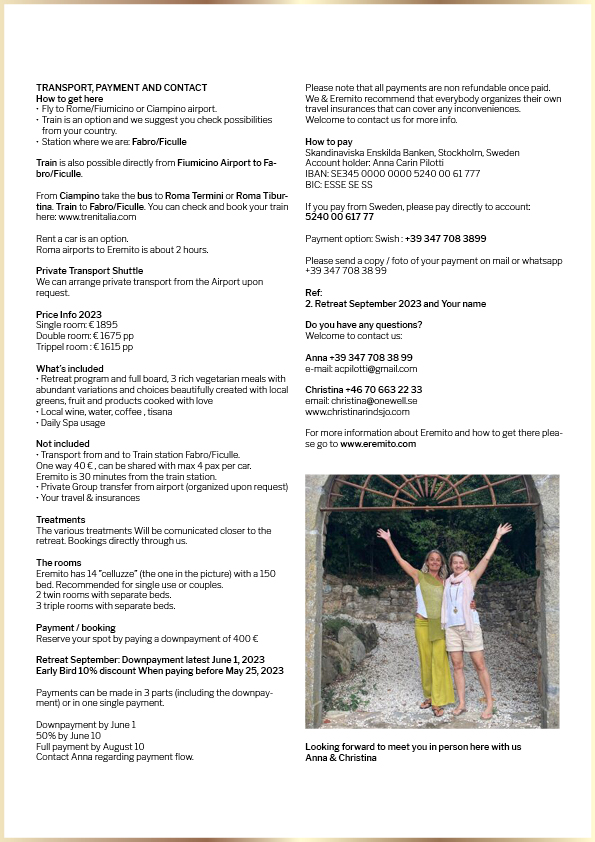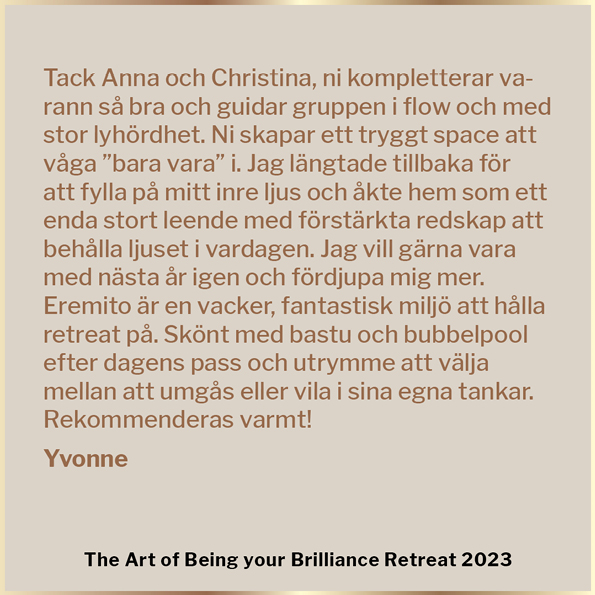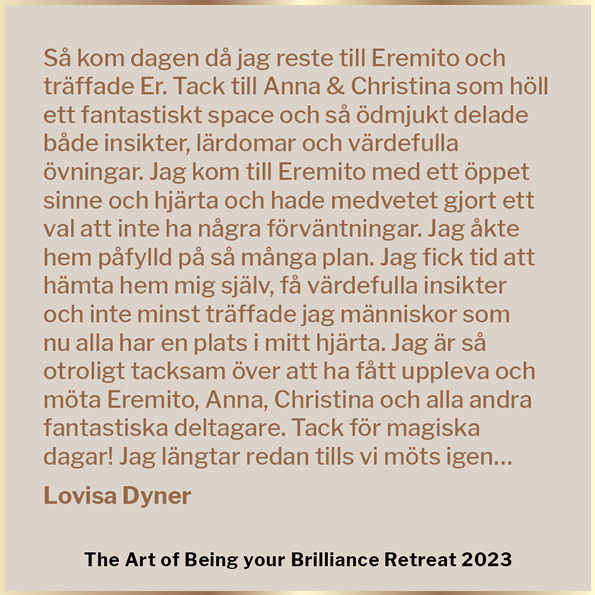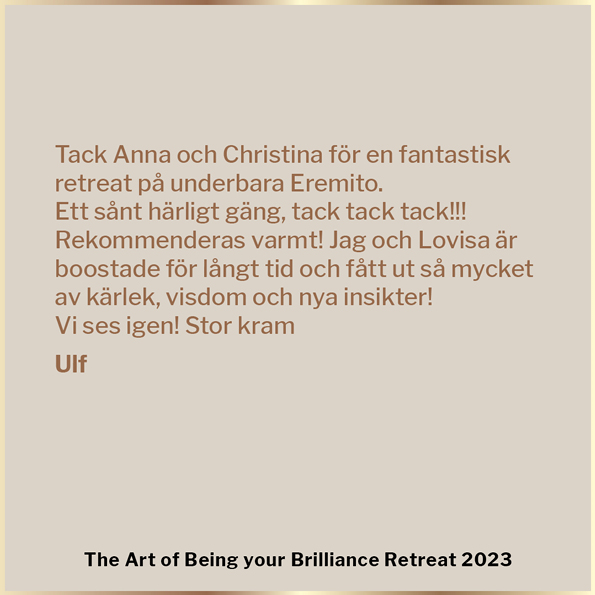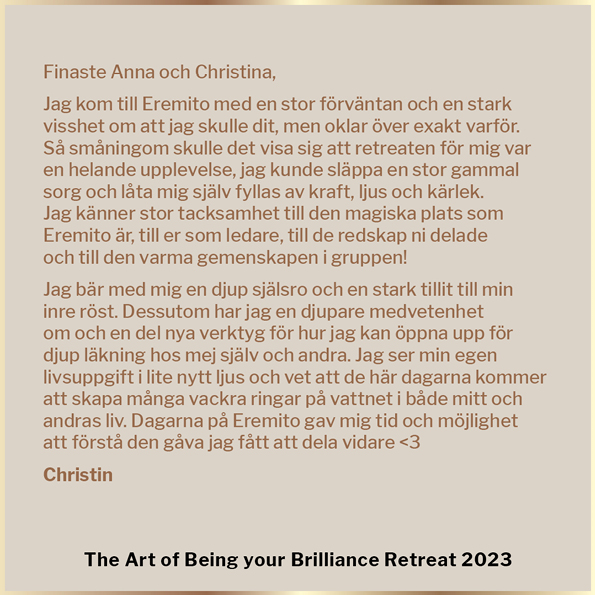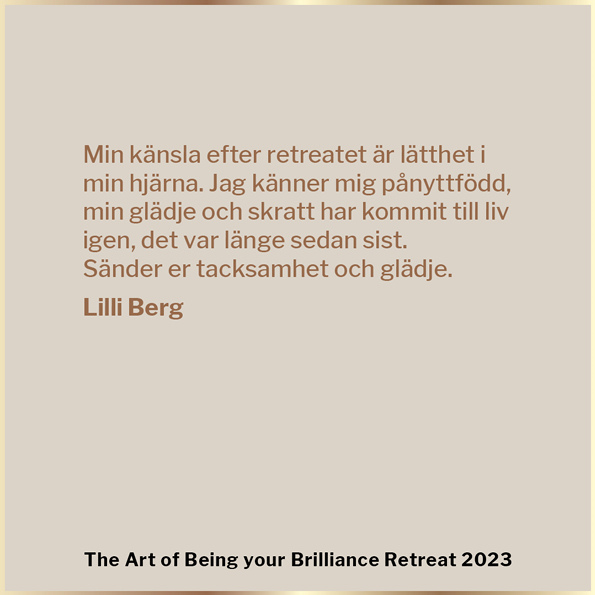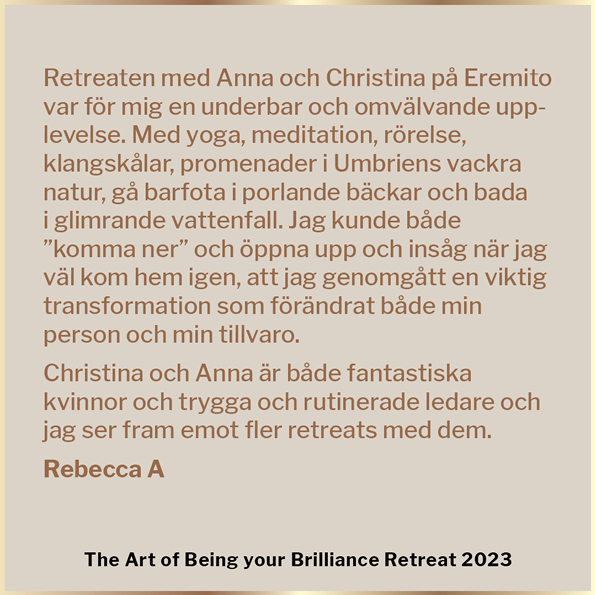 Eremito Retreat 2022